Update: A Little Free Library has arrived at the corner of Queen and Beam in Beamsville at the Literacy Council beside the old library. It looks fabulous and Allen Smith (below) crafted it.
Beam St. has a library again!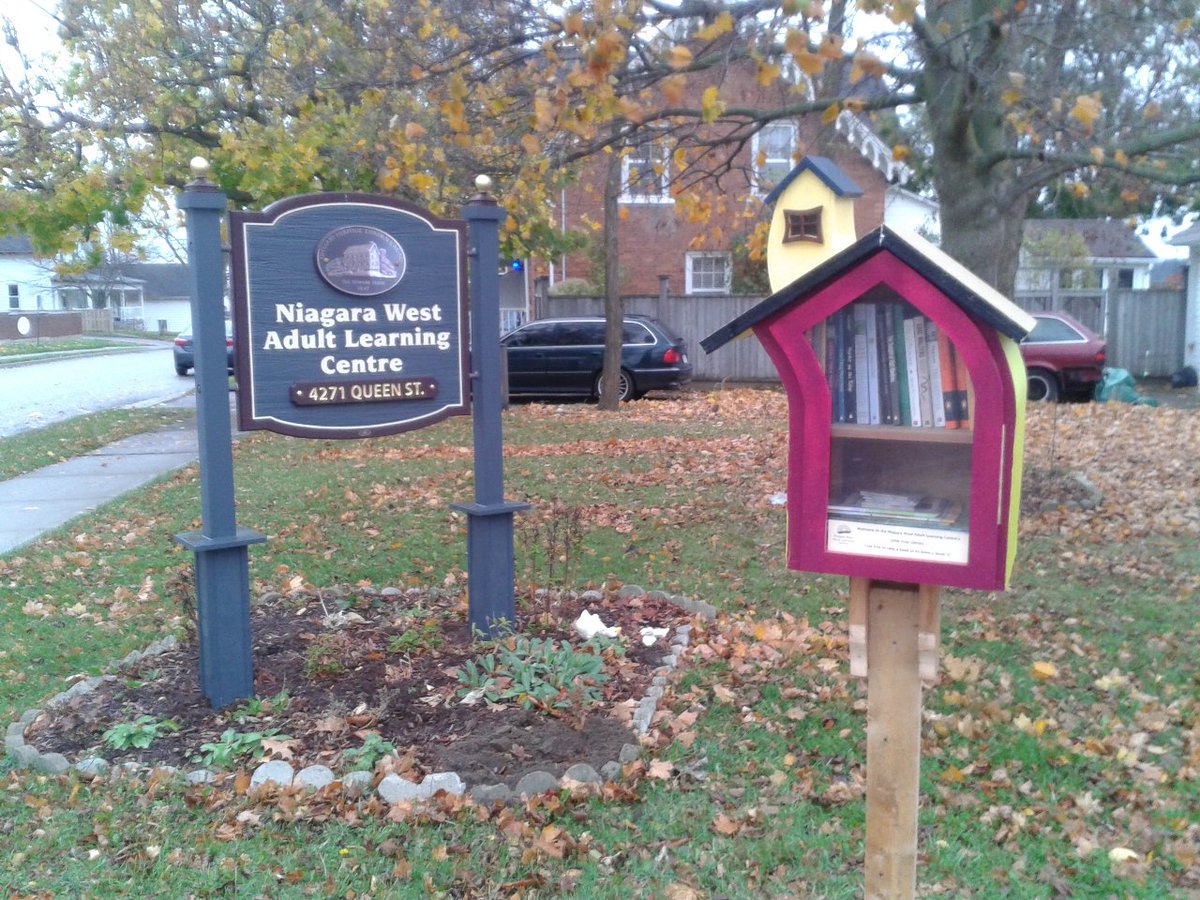 Watch for a new Little Free Library coming to Beamsville soon! I will share the grand opening details once they are available!
Grassroots book exchange gaining popularity
Grimsby Lincoln News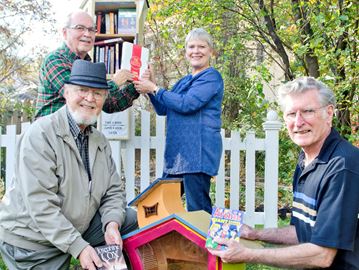 LUKE EDWARDS/STAFF PHOTO
Little Free Libraries have been popping up in Grimsby since the first one appeared in Grimsby Beach two years ago. In the photo, standing from let, Ray Bowers and Donna Brown-Bowers have one at their Murray Street home. Kneeling Allan Smith (right), a retired cabinetmaker, built one for Pierre Giroux.
GRIMSBY —
On a recent evening, around 8 p.m., Donna Brown-Bowers walked out to the front of her Murray Street home and placed a book in the Little Free Library her and her husband Ray started a little more than a year ago.
By 10 a.m. the following morning, it was gone.
"We have a house full of books, and we love sharing," said Donna.
Little Free Libraries may not be taking Grimsby by storm, but they certainly have carved out a niche for local bibliophiles.
Donna and Ray operate their Little Free Library year round, in the winter clearing a path to the small book repository that resembles the couple's home and was built by Ray. And they're not alone.
Pierre Giroux also opened his own Little Free Library this past August. The Morrison Crescent resident heard about Little Free Libraries on a radio program. Dating back to 2009, the idea is to provide a place where people can exchange books for free. Small "libraries" are place outside of people's homes. Anyone can come and check out the collection and take a book to read, hopefully leaving one in its wake.
Giroux sought out his friend, Allan Smith, a retired cabinetmaker.
"I said, 'Allan, you've got to build one,'" Giroux said.
So build one Smith did, creating a unique Little Free Library under the theme he calls "wonky architecture."
Since installing his own library, Giroux said there's been a steady stream of book lovers coming by. Each morning he'll head out and take stock of the collection of books in his library. Quite often there will be a few gone, typically replaced with a few new books.
"We seldom have to replenish it," added Donna. "It's just been wonderful."
Though Giroux will have to take his down for winter, he said Smith's craftsmanship is exemplary. There have been no leaks – it's obviously important to keep water out of the libraries – and it has withstood windstorms.
There's a third Little Free Library at Grimsby Beach. It was the first in Grimsby, and was put up in 2013.
"It's building community in a ripple effect," said Ray, who will often have a quick conversation if he sees someone checking out their library.
Donna added they're happy to report no issues so far, either. Ray said he was a little reticent early on, worried vandals might be attracted to their library. But that hasn't been the case.
People interested in Little Free Libraries can visit littlefreelibrary.org for information. There's also a map where registered libraries can be registered. However, many of the libraries, like those in Grimsby, are unregistered.
ledwards@niagarathisweek.com